Innovation
---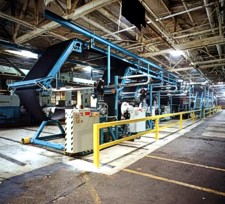 Advanced materials development
KN Rubber has pioneered the development of numerous innovative materials and processes, in order to provide customers with products that stand up to a wide variety of demanding applications. Our full on-site laboratory facilities provide an advanced testing ground for research and development.
Our Symar® brand family of compounds, engineered from recycled tires into fully cured fiber-reinforced masticated rubber, offers cost advantages and superior physical properties, compared to virgin rubber products. Much like steel-reinforced concrete, fibers are added during the manufacturing process to create a highly durable yet flexible and resilient product.
Symar–T™ is a family of polyolefin-based thermoplastic elastomers containing up to 60% tire-derived recycled rubber. It delivers the processing, appearance and manufacturing cycle time advantages of plastics with the performance characteristics of rubber.
All of our matting, bedmat, and rubber splash guard products feature Nyracord®, a unique blend of rubber and nylon cord combined to produce the toughest, most durable matting available.
Unmatched capabilities
KN Rubber is a vertically integrated company, permitting full control over the quality of all our products. Scrap tires are recycled using a proprietary process which separates rubber, steel and fiber. The reclaimed rubber and tire cord components are then put to use through our extensive processing and manufacturing capabilities, including: sheet and roll manufacturing, compression and injection molding, rubber to metal bonding, die cutting, assembly operations, rubber formulation, compounding, calendering and preforming. Our continuous curing capabilities have revolutionized the way recycled rubber is manufactured.