PDF Downloads:

Look for the yellow markings on Load-Grip mats

Recycled rubber

Made in North America
Save time and money with a trusted name in load securement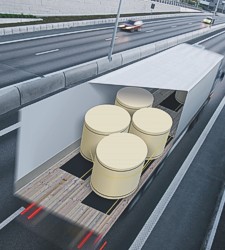 It pays to use Load-Grip
Traditional blocking and bracing cannot compare to the cost-effectiveness of Load-Grip when it comes to protecting your valuable cargo. Its high friction surface minimizes load shifts while providing significant dampening of potentially harmful vibration.
Shunting and sudden impact at speeds as low as 2.5mph can cause load movement. Load-Grip has a proven COF > 0.8 to protect your cargo even at low speeds.
Use Load-Grip underneath Paper Rolls, Metal Coils, Steel Drums, Metal Castings, and much more.
Full Service
With over 60 years combined experience in transit damage prevention, our specialists will work with you to ensure you have the best load configuration for the product you're shipping. And, to provide timely delivery for our customers, we offer warehousing and distribution locations across North America and Europe.
"It works, takes fewer people to load a truck, reduces loading and unloading turn-around times, and meets the letter of the law concerning DOT regulations. Load-Grip is by far the best cargo-securing solution on the market today...Bar none!"
- Manager of fleet safety and compliance for major manufacturer